As you are all probably aware, I am a huge cake fan. I frequent Patisserie Valerie in Derby pretty much every week because, well, they are THE best cakes I have ever eaten. I'd say at least half of my social media accounts are taken up with pictures of Pattiserie Valerie cakes. The fact that they are so visually appealing, have incredible attention to detail and amazing packaging adds a nice amount of value, but it is the taste of their cakes which is the real reason I'm hooked!!
So when I saw the 'create a cake' tool appear on my timeline, I obviously had to be the first of my friends to try this out. The clever little bakers over at Pattiserie Valerie have developed an online create a cake tool which allows you to design your own amazing cake – which can then be yours in just 48 hours from order.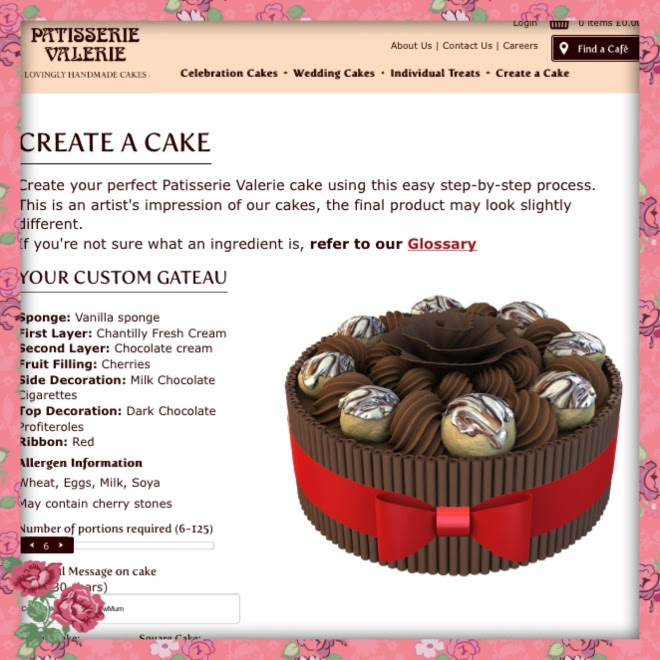 This tool is very simple to use, easy to follow and lots of fun. I allowed my toddler to choose which option he'd prefer from a selection of plain sponge, chocolate cream or chocolate matchsticks for decorations. When I say I 'allowed him', I mean that I let him look over my shoulder and point – and I then pretended they were his choices. Hey, this is my treat and I am their number one fan!
I am not going to lie, I went all out when it came to the chocolate but thought I would add a fruit filling layer of cherry to break it up a little. You can see my complete choices above on the tool screen shot.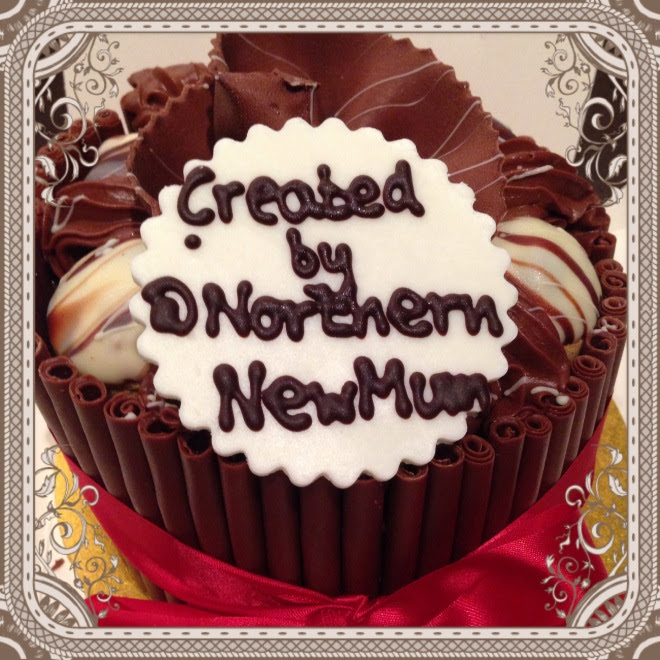 There is also an option to add your own personal little message, which is fab for any special occasion such as Birthdays, weddings, anniversaries etc. I added my Twitter name for the benefit of this post.
When I collected my precious cargo from the store, the staff kindly open the box to check you are happy with your online purchase. My face must have been a picture! I have never been so excited it all my life. This cake weighed an absolute tonne and the customers in the shop were looking on in awe, gasping with envy – and I know they were thinking, "I need one of those cakes in my life".
I walked (carefully) back to the car with the box in my hand, cradling it like a newborn baby that I had just bought into the world, and then…….. I fell over!! That's right. Completely ungraceful spill in the middle of Intu Shopping Centre car park, much to the amusement of many onlookers!!! Thankfully it was only my dignity that was damaged. Yes, the cake was fine and soon we were on route home to spend some quality time together.
I got home, gathered the family around the cake, pulled the ribbon open and attempted to cut into this awesome gift of cakey, chocolaty, loveliness. I removed a couple of the gorgeous profiteroles from the top to allow me to make the first incision, (of course I popped one of those little beauties in my mouth, rude not to!).
My toddler went straight for the chocolate matchsticks, which were already cascading around the structure as it began to collapse under my graceless and excitable hacks! The size of this cake was immense. Patisserie Valerie actually state that the cake would be suitable for 6-8 people – but these would be 6-8 VERY generous portions.
As you can see, the layers of cream, chocolate and cherry are visible and, oh my, the taste was orgasmic! The sponge was extremely light and fluffy, as it is with all of their cakes, and the Chantilly cream was likewise. But I think I probably went overboard on the chocolate options. Yes, you heard it, I added too much(?) chocolate.
My family and I enjoyed the cake but did remove the matchsticks and ganache topping as it was all too much when put together, but for a special occasion –and shared amongst a few people – it would be perfect. In hindsight, the fruit topping would have been the perfect garnish; however the cherry filling really added that sharp, fruity kick which my chocolate-overload of a cake needed. It actually reminded me of an old-school black forest gateaux, which is my favourite cake. Incidentally, Patisserie Valerie offer a black forest slice in store too.
Anyway, my son thoroughly enjoyed a treat of a couple of the delicious chocolate matchsticks, as did I, and the profiteroles were to die for.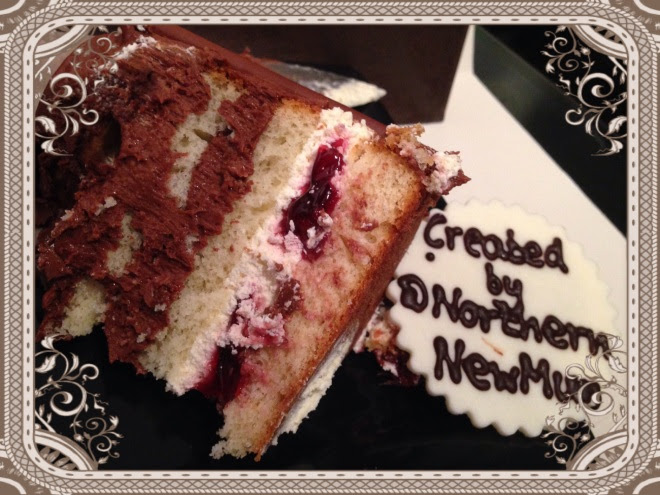 As a celebration cake, a cake that you can create yourself, this is a fabulous idea, and the cake itself was amazing. If I was to be presented this as a gift from anyone who knows me, and therefore knows that cake is my life, I would love them forever.
I think it's a brilliant idea and lots of fun to create, and I wouldn't hesitate to order one for a friend, family member or colleague should the right occasion occur, or should I like someone enough to not just eat it myself. I know some would state that £27.50 is a little expensive but as a huge cake fan, that has spent a lot of money on cake in the past, I would be more than happy to pay this. You are getting a perfect piece of confectionary, beautifully hand-crafted and bespoke to your requirements and preferences.
It's difficult to find anything negative to report. I suppose the only downside to the whole experience was that I wish i'd have opted for the fruit filling or finish, and perhaps gone for decorative nuts around the cake in order to balance the textures and tastes.
I must also add that, even a day later, the texture of the sponge and the cream remained light and fluffy, which made it even more delicious the following day. Yes, I may have eaten this for two consecutive days. Stop judging me!
Okay, three days.
This cake was sent to review and these opinions are my own.
Posted in cake, product review Tagged cake, createacake, ffdbloggers, foodLeave a comment Edit
As a certified neurotic mother, I am naturally very conscious of my toddler's diet. As part of this food-fixation, I obsess over ensuring he consumes '5-a-day'. It doesn't stop there.
Does he need to take vitamins? Is he taking too many vitamins?? Has he had enough calcium for his daily intake (cheese, yoghurt, milk etc)? Should I be supplementing his supplements?!
With this and a generally disorganised and hectic family/work life, I find it increasingly difficult to concoct new and exciting ways of getting (camouflaging) fruit and veg into my family's diet.
It is also worth adding that, for as long as I can remember, I have suffered with stomach-related complaints. In my teens, I was told that I had IBS (Irritable Bowel Syndrome) and for the years which followed I have tried stomach relaxants, drinks, diet plans but nothing has ever controlled the 'flair-ups'.
Over the past 6 months, my symptoms have worsened and I have also had to take time off work. Thankfully, after blood tests, consultancy appointments, scans (and a forthcoming endoscopy), I am edging closer to a REAL diagnosis.
Anyway, in a bid to improve both my health and also help (see force) my son to enjoy some nice shakes, we recently acquired a Nutribullet. I have never juiced before and, as per usual, I didn't read the instructions (as I never have the time). I was naturally reticent and had already assigned a space in the cupboard to 'retire' it after the first use.
But juicing has opened up a whole new world. A pile of fruit was thrown in (roughly chopped) with some linseed, ginger, honey and ice cubes and within a few seconds these were blitzed and poured out into a glass. There's something about the effortlessness of 'drinking' your 5-a-day that suddenly had the men in my house happily engaging with fruit and vegetables.
The following day I decided that I would try to make a fun milkshake for my son. Once again, I didn't go by a recipe, I threw in a handful of fruit (blueberries and raspberries) with a tablespoon of honey, half a pint of milk, blitzed for a few seconds, poured into a cup with a 'funky' straw and, to my amazement, my son happily guzzled the whole lot. EUREKA!
We have now been experimenting with our veg intake, blitzing spinach, butternut squash and a whole myriad of green things which were only once of ornamental value. This has been happening for just over a week and, personally, I am definitely feeling a lot less sluggish and a lot more 'regular' (you didn't want to know that information really, did you)?
Now the main reason I have a cupboard full of retired gadgets is, 1 – you usually need a Degree to figure out how to put said gadgets together and 2, I really can't deal with the 26 components that need cleaning after their use. However, with the Nutribullet there is no hassle at all. The mixer cup and blades fix securely on the bullet in a quick second and then the same ease and simplicity applies when dissembling. When it comes to washing up, its only a quick rinse under the tap and you're ready to get on prepping your next batch.
My hubby and I spend approx 10-15 minutes on a Sunday night and batch-prepare a veg, fruit and milkshake concoction for the following 2-3 days and then repeat halfway through the week. I have got say, this is definitely a gadget that even the hubby enjoys using, so it must be good!
The Nutribullet is doing a fabulous job in giving us all a great start to the day and I'm pretty sure that, without this gadget, we wouldn't be eating half the amount of fruit and veg we are today.
My recipes
Tropical Kick
100ml of Vita Coco coconut water
2 kiwis
A generous slice of honeydew melon
A large slice of pineapple
1/2 a mango
1/4 apple
1 x pomegranate
1 tablespoon of honey
1 tablespoon of ground linseed
A small grating of fresh ginger
A handful of ice cubes (we have also made another batch with a generous handful of spinach and it still tasted yummy!)

Berry Shake – 'Quick and Easy' Toddler Milkshake
1 handful of blueberries
1 handful of raspberries (we have previously added some strawberries too!)
1 tablespoon of honey
Half a pint of whole milk
Serve with a funky straw (my son loves his shakes with a straw)
Yes, I don't mind admitting it, I have a huge cake habit. In fact my diet usually consist of 50% cake and 50% meals with the family. Cake has been a great friend to me, especially when I stopped smoking over 3 years ago… it has almost become a substitute for me. I am very particular about the cake I purchase, much to the annoyance of my husband and experiencing bad cake this will often to lead to a bad day.
Then along comes the request from Baker Days to review their letterbox sized Valentines Cake, so what did I do? I jumped at the chance and yelled "eeeeeek CAKE!". I also took this opportunity to inform my husband, "take note, this is something you should do for me on all occasions, you would most definitely be my good books" ha ha. (Incidentally, he still hasn't appeared to have processed this information).
Anyway, I logged into Bakerdays.com and found an extensive range of Valentines Day designs to choose from, along with the following options to select your cake of choice: Sponge Cake, Chocolate Chip Sponge Cake – made only with Belgian Chocolate, Fruit Cake, Gluten Wheat Free Cake and Dairy Free cakes. I opted for the Sponge Cake but I would also like to try the Choc Chip Sponge cake (*another futile hint to hubby*).
My letterbox cake arrived safely and securely in a very sturdy cardboard box. I must admit I was very dubious of whether a cardboard package would adequately protect my precious cargo from damage – but the gorgeous blue cake tin allowed for extra protection and so, with much excitement, I opened the box; letting out a little squeal as I reveled in my little party for one.
Not only was there cake, there were also 2 candles, a small card, balloons and a party whistle. I was beyond excited. I couldn't wait to tuck into the cake, it was SO appealing. As you can see, the cake design is amazing, with gorgeous cute birds (I chose this particular style/design as it reminded me of Twitter, another passion of mine) but the personal touch (with my name added) also made it feel very special. 
Happy Valentines Day
The husband was working overseas when the cake arrived, which meant the majority of this bundle of joy was all mine (bar the sliver I allowed my son to sample). Seeing as he was my first-born, he was also allowed to briefly pick at some of my icing, which we both loved. The cake tasted AMAZING, it was lovely and light with a little cream on the underneath and the icing just melted in your mouth. This cake came at just the right time, as my hubby was away, the toddler was put to bed, I put the kettle on and devoured a slice each night. This cake definitely made me one happy Mummy that week.
Letterbox Gift Cake £14.99 RRP
3-4 portions 5 inch cakes (12cm x 2.5cm)
Hubby, if you are reading this please remember how much I love cake. Please see my earlier cake-related hints and heed the following statement which I have said to you on many occasions, "Who wants flowers when you can have cake?"
(I won't hold my breath). 
Please also note that personalised birthday cakes can be ordered along with individual cup cakes, see links below:
All I can say is, Bakerdays, welcome to the family! 🙂
This post is an entry for #bakerdays