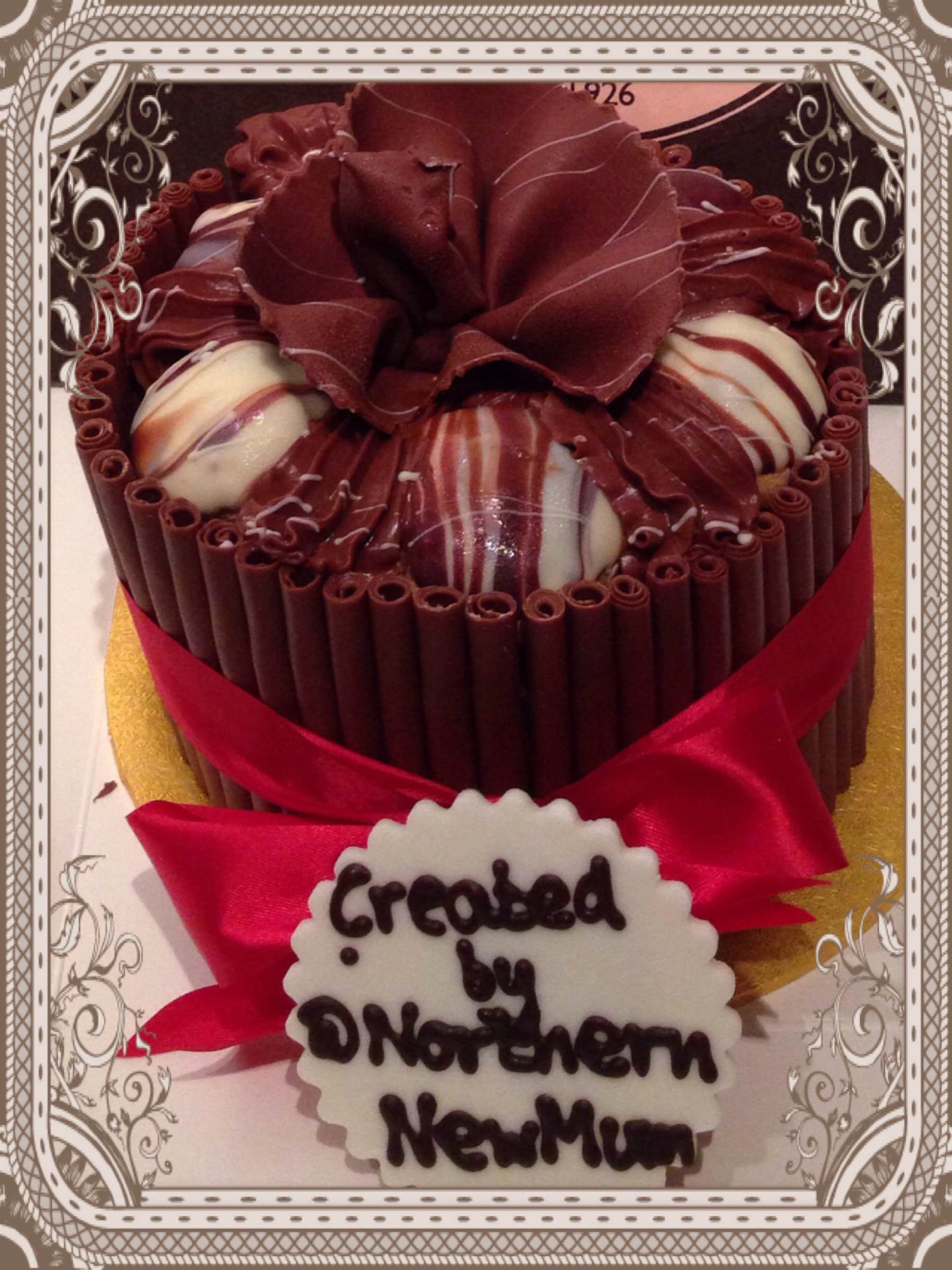 As you are all probably aware, I am a huge cake fan. I frequent Patisserie Valerie in Derby pretty much every week because, well, they are THE best cakes I have ever eaten. I'd say at least half of my social media accounts are taken up with pictures of Pattiserie Valerie cakes. The fact that they are so visually appealing, have incredible attention to detail and amazing packaging adds a nice amount of value, but it is the taste of their cakes which is the real reason I'm hooked!!
So when I saw the 'create a cake' tool appear on my timeline, I obviously had to be the first of my friends to try this out. The clever little bakers over at Pattiserie Valerie have developed an online create a cake tool which allows you to design your own amazing cake – which can then be yours in just 48 hours from order.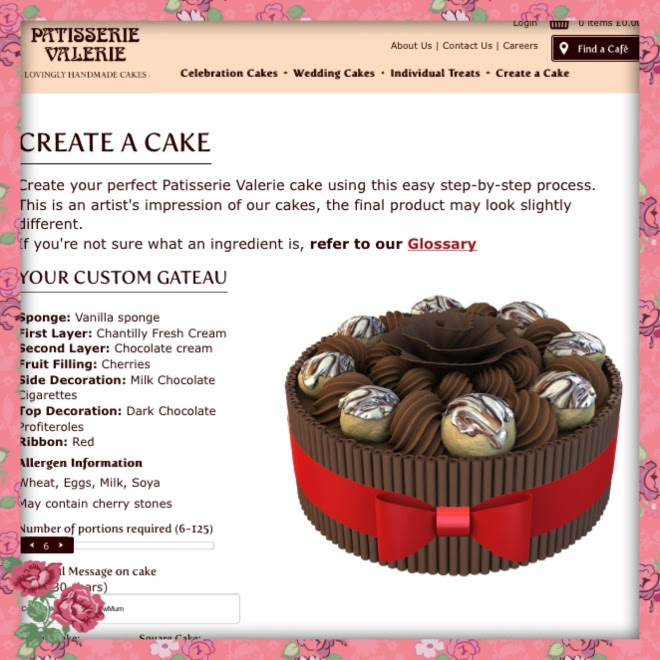 This tool is very simple to use, easy to follow and lots of fun. I allowed my toddler to choose which option he'd prefer from a selection of plain sponge, chocolate cream or chocolate matchsticks for decorations. When I say I 'allowed him', I mean that I let him look over my shoulder and point – and I then pretended they were his choices. Hey, this is my treat and I am their number one fan!
I am not going to lie, I went all out when it came to the chocolate but thought I would add a fruit filling layer of cherry to break it up a little. You can see my complete choices above on the tool screen shot.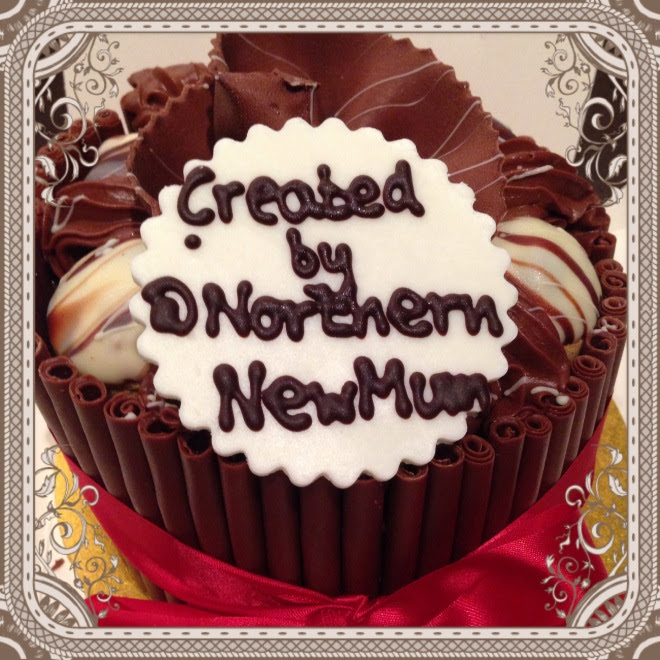 There is also an option to add your own personal little message, which is fab for any special occasion such as Birthdays, weddings, anniversaries etc. I added my Twitter name for the benefit of this post.
When I collected my precious cargo from the store, the staff kindly open the box to check you are happy with your online purchase. My face must have been a picture! I have never been so excited it all my life. This cake weighed an absolute tonne and the customers in the shop were looking on in awe, gasping with envy – and I know they were thinking, "I need one of those cakes in my life".
I walked (carefully) back to the car with the box in my hand, cradling it like a newborn baby that I had just bought into the world, and then…….. I fell over!! That's right. Completely ungraceful spill in the middle of Intu Shopping Centre car park, much to the amusement of many onlookers!!! Thankfully it was only my dignity that was damaged. Yes, the cake was fine and soon we were on route home to spend some quality time together.
I got home, gathered the family around the cake, pulled the ribbon open and attempted to cut into this awesome gift of cakey, chocolaty, loveliness. I removed a couple of the gorgeous profiteroles from the top to allow me to make the first incision, (of course I popped one of those little beauties in my mouth, rude not to!).
My toddler went straight for the chocolate matchsticks, which were already cascading around the structure as it began to collapse under my graceless and excitable hacks! The size of this cake was immense. Patisserie Valerie actually state that the cake would be suitable for 6-8 people – but these would be 6-8 VERY generous portions.
As you can see, the layers of cream, chocolate and cherry are visible and, oh my, the taste was orgasmic! The sponge was extremely light and fluffy, as it is with all of their cakes, and the Chantilly cream was likewise. But I think I probably went overboard on the chocolate options. Yes, you heard it, I added too much(?) chocolate.
My family and I enjoyed the cake but did remove the matchsticks and ganache topping as it was all too much when put together, but for a special occasion –and shared amongst a few people – it would be perfect. In hindsight, the fruit topping would have been the perfect garnish; however the cherry filling really added that sharp, fruity kick which my chocolate-overload of a cake needed. It actually reminded me of an old-school black forest gateaux, which is my favourite cake. Incidentally, Patisserie Valerie offer a black forest slice in store too.
Anyway, my son thoroughly enjoyed a treat of a couple of the delicious chocolate matchsticks, as did I, and the profiteroles were to die for.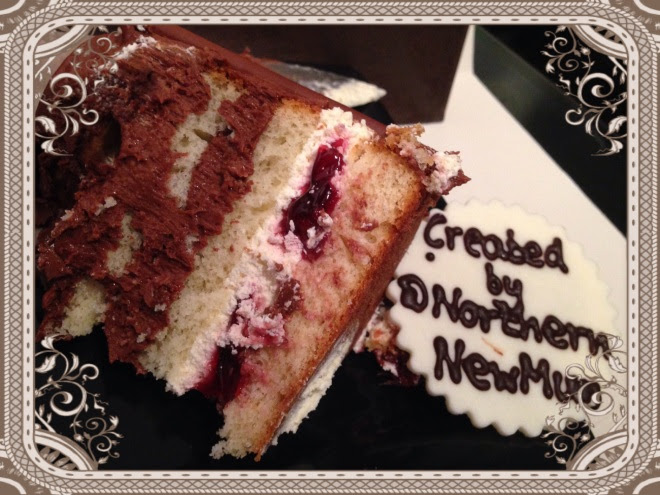 As a celebration cake, a cake that you can create yourself, this is a fabulous idea, and the cake itself was amazing. If I was to be presented this as a gift from anyone who knows me, and therefore knows that cake is my life, I would love them forever.
I think it's a brilliant idea and lots of fun to create, and I wouldn't hesitate to order one for a friend, family member or colleague should the right occasion occur, or should I like someone enough to not just eat it myself. I know some would state that £27.50 is a little expensive but as a huge cake fan, that has spent a lot of money on cake in the past, I would be more than happy to pay this. You are getting a perfect piece of confectionary, beautifully hand-crafted and bespoke to your requirements and preferences.
It's difficult to find anything negative to report. I suppose the only downside to the whole experience was that I wish i'd have opted for the fruit filling or finish, and perhaps gone for decorative nuts around the cake in order to balance the textures and tastes.
I must also add that, even a day later, the texture of the sponge and the cream remained light and fluffy, which made it even more delicious the following day. Yes, I may have eaten this for two consecutive days. Stop judging me!
Okay, three days.
This cake was sent to review and opinions are my own.